Monday, October 23rd 2023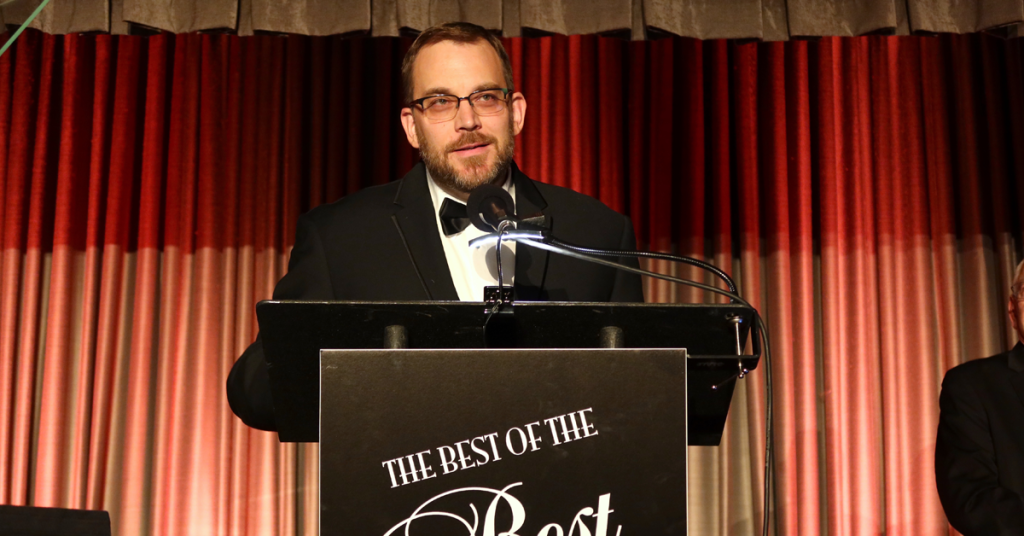 Waukegan, Illinois (October 23, 2023) – Nathan Hintz, former President of the Waukegan Parks Foundation, was honored with the Outstanding Citizen Volunteer of the Year Award by the Illinois Association of Park Districts at their 2023 Best of the Best Awards Gala. This award recognizes citizens' volunteer efforts to enhance a park district, forest preserve, conservation, recreation or special recreation agency program, service, parkland, open space, or facility. Nathan was nominated by the Waukegan Park District.
Nathan served as President of the Board for four years, nurturing relationships in the community that resulted in initiatives that positively impacted the community as well as outstanding capital projects. He led the fundraising campaign that helped the all-volunteer organization raise $40,000 to complete its first-ever capital project consisting of a percussion playground where children can express themselves through music.
With a passion for nature, Nathan spearheaded efforts to enhance programming about pollinators, including the planning, implementation, and maintenance of beehives. This unique project has provided a hands-on educational experience for individuals of all ages.
Jeremiah Johnson, President of the Waukegan Park District Board of Commissioners, stated, "Nathan Hintz is a prime example of a community-minded individual. He generously gave his time and energy to make a difference. The Waukegan Park District is forever grateful for his ongoing commitment to our community."
Jay Lerner, Executive Director of the Waukegan Park District, stated, "The Waukegan Park District is grateful for the many contributions Nathan Hintz made as part of the Waukegan Parks Foundation. Under his leadership, the organization has expanded its impact in the community with thousands of dollars raised and several capital projects completed."
Charlotte Callahan Wozniak, President of the Waukegan Parks Foundation, stated "Nathan Hintz was an inspiration for the Waukegan Parks Foundation during his time as President. With him at the helm, the organization completed innovative projects, including construction of a percussion playground and a healing garden."
Nathan Hintz, stated, "Many times as a volunteer you are not thanked for your work. What an amazing way to be thanked, receiving this award is a great honor. While I was honored here for my leadership, the successes would never have been achieved without having the dedicated and amazing group of volunteers making up the Foundation Board, a premier organization to raise funds for and support like the Waukegan Park District, and a family that is willing to sacrifice time with me so I can volunteer. This was truly a great honor."
---
About the Waukegan Park District
Established on December 26, 1916, the Waukegan Park District (WPD) has 53 properties and more than 742 acres of land, including the 18-hole Bonnie Brook and 9-hole Greenshire Golf Courses. Properties are managed to the highest environmental and conservation standards. Facilities operated by the WPD include the Field House Sports, Fitness and Aquatics Center, Waukegan's Greg Petry SportsPark, Waukegan Skate Park, BMX Track, SplashZone, Percussion Playground, recreational centers, disc golf course, dog exercise area and agility course, outdoor sports fields, picnic areas, playgrounds, splash pads, and sports courts including basketball, tennis and pickleball. A full range of programs and services are offered year-round for all ages, from infants to seniors, as well as special need populations. Healthy lifestyles, wellness initiatives, and a connection with the outdoors and nature are integrated throughout programs, services, and special events. Arts and cultural activities are provided by the Jack Benny Center for the Arts, Waukegan Symphony Orchestra and Concert Chorus, and the Waukegan History Museum. We offer something for everyone!
A member of the National Recreation and Park Association (NRPA), Illinois Association of Park Districts (IAPD), Illinois Park and Recreation Association (IPRA), and the Park District Risk Management Agency (PDRMA), the WPD employs 73 full-time and 219 part-time, seasonal, and temporary employees and is recognized by the IPRA as an Exceptional Workplace.
Nationally accredited by the NRPA Commission for Accreditation of Park and Recreation Agencies (CAPRA) and State accredited through the IAPD Distinguished Agency Accreditation, the WPD has received the Government Finance Officers Association (GFOA) Triple Crown Award for receiving the GFOA's Certificate of Achievement for Excellence in Financial Reporting, Popular Annual Financial Reporting Award, and the Distinguished Budget Presentation Award. The WPD was awarded the NRPA National Gold Medal Award for Excellence in Park and Recreation Management in 2013, and was named a Gold Medal Finalist in 2012, 2013, 2019, 2021, 2022, and 2023.
Media Contact
Josue Pasillas, MPA
Communications Supervisor
Waukegan Park District
(847) 360-4789
jpasillas@waukeganparks.org
waukeganparks.org